Regular price
$209.66
Sale price
$129.99
Unit price
per
Sale
Sold out
PRODUCT DETAILS:
11 Color RGB LASER Lightsaber Metal Sword Cosplay Toy Luminous Toys Stick Saber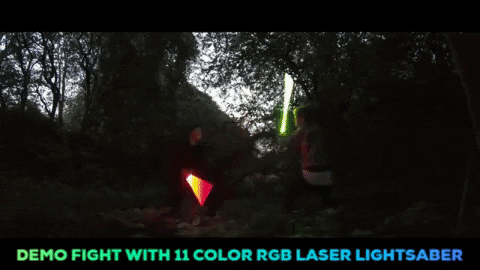 PACKAGE INCLUDES:

1 x handle

1 x sword body

1 x USB charging line

1 x decorative winding belt

1 x Six angle wrench in 7 font

2 x spare screwdrivers
PRODUCT PARAMETER:

Material: Metal(handle), pc(blade)
SIZE: Handle 27cm. blade 73cm,total length 100cm 
Diameter: Blade 2.5cm, handle 3cm
Handle color:  Silver, gray, black, gold, red, blue.
11 light colors: cold white, deep red, pink, red, orange, yellow, green, green, blue, purple, and ice blue.
Charging: USB fast charging
Battery capacity:1200mAh
The handle and blade can be moved,Pictures of dismantling products is available. The tube is very strong and can be used for struggle. If the pipe is broken, you can buy it back here. Products have maintenance points in the United States and Australia.

HOW TO PLAY:

Switch: short press start (vibration 1 loosening), long press 4 seconds to shut down (vibration 5 times).
Switching light mode: after boot, short press switch light effect (vibration 1 loosening), then cycle.
Light mode and switch: after boot, press 2 seconds to loosen (vibrate 2 times), open or close the sword mode.

When the sword is opened, touch lightly (vibration 1 times) and switch the sword's light effect.

Volume high school low switch: after boot, press 3.5 seconds to loosen (vibrate 4 times), switch the voice loud, medium and small in turn.
Light and color switch: after boot, press 3 seconds to loosen (vibrate 3 times) to switch color.
CHARGE:

Connect the DC end of the charging line to the lightsaber charge hole, and the USB end are connected to the charging seat of the output parameter 5V1A of the equipment (adapter, PC, cell phone charger, etc.) with a USB port. When charging, the button aperture "breathe" starts to recharge, and the battery is filled with light. The charging time is usually 2-3 hours. The charging seats are different and charging time is different. This is a monochromatic light and light sword. The main blade can be detachable, and the other is not dismantled. 
FUNCTIONAL DESCRIPTION:

3 sets of sound effects: each set has the sound effect of the switch machine, the standby (background) sound effect, the swords effect, the sound effect, the sound effect, the switching sound effect, the low power sound effect and the charge effect...
Light effect: flame mode, full bright mode, high and low brightness regulation, breathing mode, heartbeat mode, flickering mode, explosive flashing mode spelling sword;
Volume regulation and mute mode: volume high school low regulation, mute function;
Memory function: light effect memory, sound effect memory;
Vibration special effect: Switch machine vibration, waving vibration, beating vibration, switching vibration.
Low Power Hints: Sound + scintillation prompt, 30 seconds automatically shut down. After the boot, the standby sound (or the background sound) starts, wave or knock sound real-time start, the sword (or sword blade) light effect for flame mode, light touch (vibration 1 loosening), can switch to standard mode, in turn can switch to other modes.
WARNING:

This product is a LED luminous toy. Long time direct vision may affect your eyesight.

The left and right screws of the handle of the hilt are fixed, and can be rotated.

The screws on the handle are used for fixing internal fittings. No dismantling is allowed.  

Please do not charge the product with more than 5v-1A power supply.
Please Note:

1. If you find that you have only received a blade or a handle, please don't worry.
2. Please check the tracking number information we have sent you first. 
3. Usually two packages are used to transport it to you. Because this product is very long.
Our Promise

Reasons to buy from GoatFind:

-100% Satisfaction Guaranteed

-100% Secured Payment

-100% Money Back Guarantee if not delivered

-Shipping Free

-Unique Items sourced from worldwide not found in store

-365 days a year Discounted Deals

-Highly Responsive Customer Support

-Free Replacement if wrong item or damaged item delivered
Shipping & Handling Time

For United States:

- All Free Shipping to United States takes around 12-15 days to be delivered excluding handling time.

- Handling time is 2-3 working days

- Expedited Paid shipping is 4-5 days

For Worldwide:

- All Free Shipping takes around 20-30 days to be delivered

-Handling times is 2-3 working days

- Expedited shipping is 4-5 days, but should be confirmed with the support if it is not the Europe or North America.
Return & Refund Policy

Thanks for purchasing our products at goatfind.com.

Received a Faulty or Wrong product?

We are really sorry to hear this. In the Unlikely event that you have received a faulty or wrong product, please get in touch with our support team either via chat or email. We will guide you the process of replacement for free.

Leave a message on Chat from Homepage,

or

Email - support@goatfind.com

or 

Whatsapp us or Message us on +19259401003

RETURNS

How will the customers get a return label?

A Customer will get a return label to download for print only for defective products-

This happens when the product is incorrect, damaged by the carrier, or defective in another way

For any kind of customer remorse

This happens when the customer purchased the wrong product, it doesn't fit, or they no longer want the item.

It is Customer's responsibility; we will not provide a return label. 

Please note: In order to be eligible for a refund, you have to initiate return within 15 calendar days upon receiving the product. The product must be in the same condition that you received it, with all tags intact and undamaged in any way. Return shipping fee will be borne by Buyer. Goatfind will not provide any return shipping label.

REFUNDS

After we receive your item, our team of professionals will thoroughly inspect it and take the necessary action. Once we process your refund. The money will be refunded to the original payment method you've used during the purchase. For credit card payments it may take 5 to 10 business days for a refund to show up on your credit card statement.

Please Note- there will be 15% processing fee charge for a Return and Refund on the Product Price without Taxes. Taxes are non-refundable. 

If the product is damaged in any way, or you have initiated the return after 15 calendar days have passed after you received the item, you will not be eligible for a refund.

CANCELLATION

You cannot cancel the order once it is shipped out for obvious reasons. We have a 75-day delivery window, if not delivered within that time, no questions asked we will refund your full amount.

If you order and want to cancel within couple of hours of the order, then mail us, we will cancel the order if it is not shipped.

If anything is unclear or you have more questions, feel free to contact our customer support team.

Please Note: 

Please understand that we do not accept returns or exchange without a prior return authorization.

Therefore, if you need to return your order for some reason, please contact our Customer Support Team first to confirm.

Once you are authorized to return the item(s), please follow all of the instructions provided.

The Goatfind has the sole discretion on accepting or rejecting a return request. And its decision is final. Please be aware of the terms before purchasing.
Share
View full details